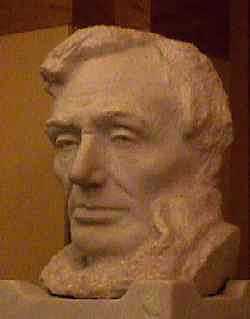 Lincoln Bust by Borglum
Sculptor Gutzon Borglum, best known for his Mount Rushmore likeness of Abraham Lincoln, originally intended this huge marble head as a study. A gift of Eugene Meyer, Jr. in 1908, it was displayed for many years in the Rotunda, but now rests one floor below in the Capitol Crypt.
Borglum, who lived after Lincoln's time, studied numerous photographs of Lincoln and the Lincoln life mask which Leonard Volk produced in 1860. He observed, "I have never found a better head than his, and I have never seen a face that was so mature, so developed, in its use of his expression."
<Click on picture to start tour over.
Back to Tour Home