This Week in History
June 30, 1864
President Lincoln accepts the resignation of Treasury Secretary Salmon Chase and replaces him the following day with William Fessenden.
July 2, 1862
President Lincoln signs the Pacific Railroad Act and approves the Morrill Land Act.
July 4, 1861
President Lincoln's address on the war is read at a special session of Congress.
Today in Lincoln's Life
Lincoln's Words
"The struggle of today, is not altogether for today -- it is for a vast future also. With a reliance on Providence, all the more firm and earnest, let us proceed in the great task which events have devolved upon us."
--Annual Message to Congress, December 3, 1861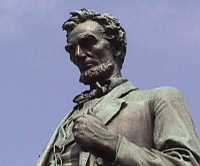 Lincoln Events

Welcome

News Highlights

Hunting for Lincoln Documents
URGENT: Lincoln Papers Project in Fiscal Crisis
Lincoln Museum Bill Goes to Illinois Governor
Illinois House Passes Lincoln Museum Bill
New Legislation Proposed for Presidential Museum
Springfield Funeral Procession Photos
Funeral Train Car Replica Arrives in Springfield
Iron Mountain Helps Papers of Abraham Lincoln
Lincoln Assassination Artifacts Reunited at Ford's Theatre
Global Input on Lincoln Requested
Governor Proposes Changes for Lincoln Museum Administration
Lincoln Funeral Train Car Nears Completion
Holzer Wins 2015 Lincoln Prize
Study Recommends Against Separate Presidential Museum Agency
Restored Oak Ridge Cemetery Gate Dedicated
Lincoln Coffin Photo Notes Given to Presidential Museum
Papers Project Receives Gift Honoring Collum Davis
Two New Lincoln Documents Discovered
Lincoln Handwriting Found in Book
Lincoln Tomb Documentary Planned
More Squabbling Over Library/Museum Control
Changes Ahead for Lincoln Law Office
New Lincoln Museum at Lincoln College
Historians Solve Lincoln Note Mystery
Lincoln Papers Project Deserves Full Funding
Man Reads Gettysburg Address at All 50 Capitols
Important Assassination Document Found
A Doctor's View of the Assassination