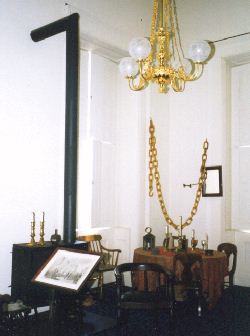 Governor's Reception Room
Following Abraham Lincoln's 1860 presidential nomination, crowds of well-wishers and office-seekers poured into Springfield to see him. Neither his law office or home could accommodate them, so he arranged to greet them in the governor's reception room. In December a reporter stopped to see Lincoln early on a Saturday morning, remarking, "Mr. Lincoln already had a visitor, and his secretary was seated at a desk heaped up with letters and documents."
In this room Lincoln also posed for artists and met visitors such as Francis Blair, Jr., Edward Bates, Simon Cameron, Thurlow Weed, and David Wilmot. The space featured a large chandelier such as the period-correct one shown. The chain in the corner is a replica of a gift to Lincoln; the original had been carved from a single piece of wood.
<Click on picture to continue.
Back to Tour Home