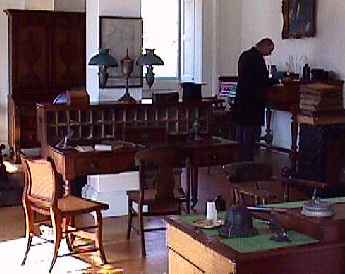 Auditor's Office
When the Old Capitol served as the Illinois statehouse, the state's chief executive officers worked here, including the Auditor of Public Accounts. In his position, the Auditor sometimes handled pay warrants for Abraham Lincoln when he worked on state business.
In 1842, Auditor James Shields challenged Lincoln to a duel after Lincoln published satirical letters attacking Shields' official practices. Their friends, however, settled the dispute just before the duel could begin.
<Click on picture to continue.
Back to Tour Home