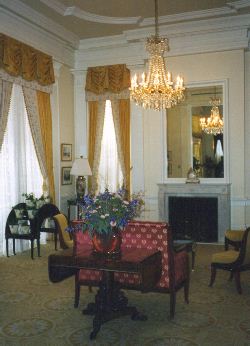 &copy Abraham Lincoln Online
Restored in 1971 and added to the National Register of Historic Places five years later, the 45,120 square-foot building houses many treasures. It is the third-oldest governor's mansion still in use. When you walk inside, you immediately see the exquisite elliptical stairway which leads to spacious rooms decorated in British Regency style.

Once upstairs you can see an oil portrait of Lincoln's longtime friend, Edward D. Baker. Baker gave this to Lincoln shortly after he was elected to the U.S. Senate from Oregon and Lincoln had been elected to the presidency. Also on display is a bust of Lincoln modeled from life by Thomas D. Jones, bedroom furniture given to the Lincolns, White House china, and a spectacular table presented to President Lincoln which contains more than 20,000 pieces of inlaid wood.

Hours: The building is open daily from 1:00-4:00 p.m. Closed on major holidays. For information about tours and policies, click here.