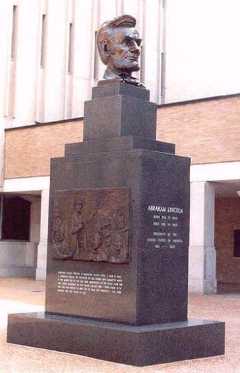 Photo Courtesy Carolyn Tolpo Smith
Tolpo Bust in Waukegan, Illinois
On April 2, 1860, several weeks before Lincoln was nominated for president, he gave a speech in Waukegan. This heroic-sized bust recalls Lincoln's visit to the town and the ensuing Civil War with its sculpted side panels.
You may view this bronze work on the grounds of the Lake County Court House, where it was installed in 1995. The sculptors were Carl and Lily Tolpo, whose Lincoln depictions appear in various locations, including Ford's Theatre and Freeport, Illinois.
<Click on picture to continue.
Back to Tour Home