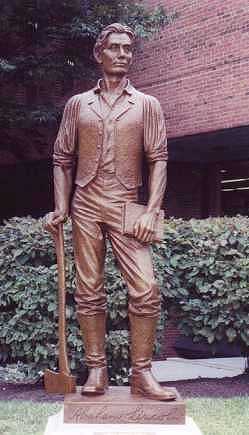 Photo by Matt Langford
Langford Statue in Covington, Kentucky
One of the nation's newer Lincoln sculptures, this life-size bronze work was unveiled on October 2, 2004. You may see it on the grounds of the Mary Ann Mongan Library at Fifth Street and Scott Boulevard. It represents the first of the City of Covington's Art of Discovery awards.
Sculptor Matt Langford has depicted what Lincoln might have looked like as a young man, when he experienced a period of struggle and self-education. Two symbols help represent Lincoln's life at this time -- the ax, which helped to support himself, and a book, which speaks of his aspirations. A plaque on the base reads, "I shall prepare myself. Someday my chance will come."
Langford, who lives in an antebellum log cabin in nearby Union, hopes to inspire younger generations with this image of a future president who rose from his humble Kentucky origins through hard work, disciplined study, and determination.
<Click on picture to continue.