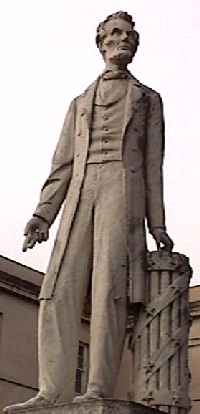 Flannery Statue in Washington, D.C.
You'll find one of the earliest Lincoln statues in America standing in Judiciary Square, several blocks from Ford's Theatre, where the president was shot. Dedicated on April 15, 1868, the third anniversary of Abraham Lincoln's death, the marble figure was unveiled by Lincoln's successor, President Andrew Johnson, after an elaborate ceremony. In 1919 the statue was taken down, but was restored to its original location in 1923 after considerable controversy.
The statue, slightly larger than life size, shows Lincoln with his left hand resting on a symbol of the Union. Lot Flannery, the Irish sculptor who won the competition to produce this stylized work, claimed he knew Lincoln and was present at the theatre when Lincoln was assassinated.
<Click on picture to start tour over.
Back to Tour Home