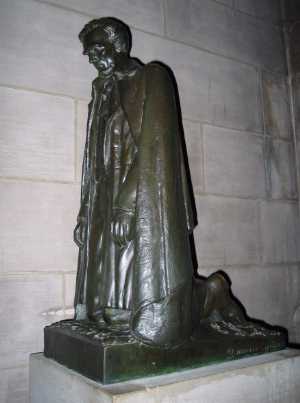 Houck Statuette in Washington, D.C.
This bronze statuette in the Washington National Cathedral is one of the most unusual Lincoln images in Washington. Just 38 inches high, it rests on a limestone base in the building's northeast stairwell. It's the only known sculpted work of Abraham Lincoln kneeling in prayer.
The statuette, sculpted by Herbert Spencer Houck of Harrisburg, Pennsylvania, was donated to the cathedral by his sister, Mrs. Florence N. Hildrup. The inspiration for the pose came from Houck's grandfather, whose story has never been authenticated. He claimed he discovered the president kneeling among the leaves near the fields at Gettysburg.
President Lincoln was no stranger to prayer, however. According to reporter Noah Brooks, "prayer and reading of the Scriptures was his constant habit." Lincoln told Brooks, "I have been driven many times upon my knees by the overwhelming conviction that I had nowhere else to go."
<Click on picture to start tour over.
Back to Tour Home