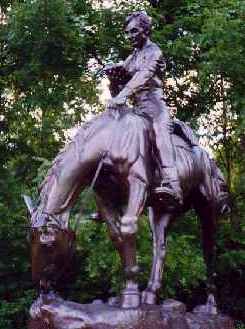 Huntington Statue in
New Salem State Park, Illinois
When you approach the entrance of New Salem State Park on Route 97, pause to see this heroic bronze statue of Abraham Lincoln on horseback. In 1963 the 14-foot work was donated to the State of Illinois by the famed sculptor Anna Hyatt Huntington and Carlton Smith of the National Arts Foundation.
Titled "On the Circuit," it represents Lincoln as a young lawyer, studying as he traveled. Duplicate castings appear in Lincoln City, Oregon, Syracuse, New York, and Salzburg, Austria. A small bronze version stands outside the Bethel, Connecticut Library. Inside the New Salem Visitor Center you also can see an equestrian Lincoln statue by Marshall Mitchell.
<Click on picture to continue.
Back to Tour Home