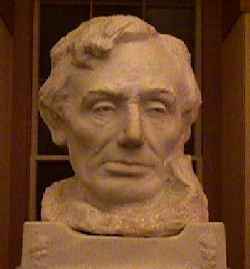 Borglum Bust in Washington, D.C.
Sculptor Gutzon Borglum, best known for his Mount Rushmore likeness of Lincoln, originally intended this huge marble head as a study. Now on view in the U.S. Capitol building under the Rotunda, it was a gift of Eugene Meyer, Jr. in 1908.
Borglum, who lived after Lincoln's time, studied the 1860 Volk life mask and numerous photographs of Lincoln. He observed, "I have never found a better head than his, and I have never seen a face that was so mature, so developed, in its use of his expression."
<Click on picture to continue.
Back to Tour Home