This Week in History
February 22, 1842
Lincoln delivers a speech before the Washington Temperance Society in Springfield, Illinois.
February 24, 1862
The White House funeral for William Wallace Lincoln, 11-year-old son of President and Mrs. Lincoln, is held in the East Room.
February 27, 1860
Lincoln gives a now-famous speech at the Cooper Institute in New York City.
Today in Lincoln's Life
Lincoln's Words
"I appeal to you again to constantly bear in mind that with you, and not with politicians, not with Presidents, not with office-seekers, but with you, is the question, "Shall the Union and shall the liberties of this country be preserved to the latest generation?"
--Speech to Gov. Morton in Indianapolis, February 11, 1861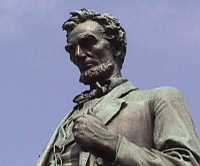 Lincoln Events
No Events Until Further Nortice
Welcome

News Highlights

Center for Lincoln Studies Opens
Lincoln Home Neighborhood Expansion Expected
Plan Seeks to Expand Lincoln Home Historic Site
Author Wayne Temple Active at 96
Mast Takes Helm at Museum Foundation
Commentary: Hellmers on the Lincoln Cottage Plan
ALPLM Wrestles with Hat, Looks for Leadership
Firing of State Historian latest ALPLM Controversy
Lincoln Cottage Replica Planned
Lincoln Mortgage Document Discovered
Tick Tock: Issues Go Beyond Hat
ALPLM to Decide Status of Lincoln Hat
Loan Extension Granted for Taper Collection