This Week in History
May 22, 1849
Lincoln is granted a patent on a device to lift boats over shoals.
May 23, 1860
Lincoln writes a formal acceptance of his presidential nomination by the Republican party.
May 25, 1861
In the White House East Room President Lincoln and his family attend the funeral of Colonel E.E. Ellsworth, who was assassinated the day before in Alexandria, Virginia.
Today in Lincoln's Life
Lincoln's Words
"The struggle of today, is not altogether for today -- it is for a vast future also. With a reliance on Providence, all the more firm and earnest, let us proceed in the great task which events have devolved upon us."
--Annual Message to Congress, December 3, 1861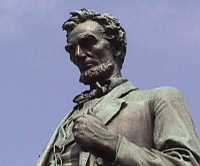 Lincoln Events

Welcome

News Highlights

Divorce Court: UIS, Lincoln Papers Parting Ways
Civil War: Fights at ALPLM Hit Lincoln Papers
McDermott Rebuttal to ALPLM Director
A Presidential Chat: Picking the Brain of ALPLM Head Alan Lowe
Illinois House Ok's Bill to Make ALPLM Separate Agency
Groups Hold Lincoln Memorial Ceremony for 61st Year
ALPLM Removes John Wilkes Booth Statue
ALPLM Director Considers What Can be Added
Experts Helping with Online Release of Lincoln Documents
Stowell Fights Firing at Hearing
Governor Proposes Independent ALPLM
Missing Lincoln Sculpture Reappears
Conroy and Egerton Win Lincoln Prize
Lawyer: Lincoln Papers Director Fighting Termination
High-Tech Security System at Lincoln Tomb
Shakeup at Lincoln Papers Project
Wheeler Named Illinois State Historian
Mary Lincoln Funeral Ledger Rediscovered
Putting Lincoln Online is No Easy Political Task
NYT on the Lincoln Papers Crisis
Presidential Museum Director Resigns
Presidential Library: A Ghost of Its Former Self?
Springfield Funeral Procession Photos