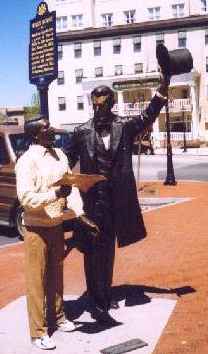 Lincoln Statue at Wills House
Just outside the Wills House you can see a highly realistic image of President Lincoln greeting a modern-day visitor. This life-size bronze statue, called the "Return Visit," is the work of J. Seward Johnson, Jr. The Lincoln Fellowship of Pennsylvania placed it here in 1991.
It depicts Lincoln pointing to the house, as if he is explaining where he completed his Gettysburg Address. On the night Lincoln stayed here, a New York Tribune reporter wrote, "After supper the President was serenaded by the excellent band of the 5th New-York Artillery. After repeated calls, Mr. Lincoln at length presented himself, when he was loudly cheered." Lincoln, however, wisely declined to make a speech.
<Click on picture to continue.
Back to Tour Home