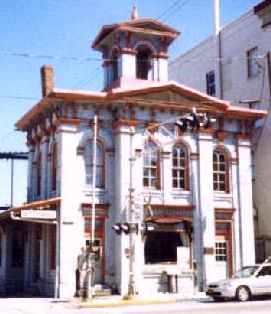 Old Railroad Station
President Lincoln arrived in Gettysburg, Pennsylvania, the day before delivering his famous Address at the National Cemetery. At dusk on November 18, 1863, the festively decorated presidential train from Washington, D.C. pulled up to the depot, bearing dignitaries such as Cabinet members and foreign ambassadors.
The Lincoln party alighted at this Carlisle Street building. The Hanover Junction, Hanover and Gettysburg Railroad began service to Gettysburg in 1859, when this passenger station was built. During the battle, it served as a make-shift hospital, and for months afterward thousands of wounded soldiers boarded trains departing from it. The building, which has been restored recently, is now open to the public. It has been painted in different colors than shown here.
<Click on picture to continue.
Back to Tour Home