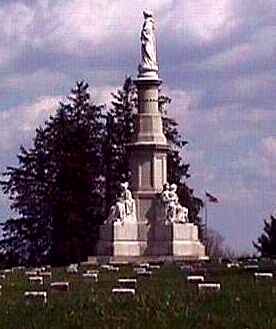 Soldiers National Monument
Once the procession reached the cemetery, the participants could not miss the brokenness of the battlefield before them. As a soldier recalled, "all about were traces of the fierce conflict. Rifle pits, cut and scarred trees, broken fences, pieces of artillery wagons and harness, scraps of blue and gray clothing, bent canteens..."
Today, the Gettysburg National Cemetery is the picture of serenity, serving as the burial ground for American veterans from all of major wars and conflicts. Designed by William Saunders in 1863, it features the Soldiers National Monument, with figures representing War, Peace, History and Plenty.
<Click on picture to continue.
Back to Tour Home