Help Fill the Lincoln Document Gap
You may be able to help fill the information gap of a comprehensive Lincoln document project called the Papers of Abraham Lincoln. The project staff needs to hear from owners of original documents written to or from Lincoln. Even if you don't own a document but know where one is located, your input is valuable. This also goes for dealers and educational and historical institutions.

The Papers of Abraham Lincoln is a nonprofit project in the process of identifying, imaging, and publishing all documents written by and to Lincoln during his lifetime (February 12, 1809 - April 15, 1865). The documents may be cards, envelopes, letters, legal papers, certificates, or even scraps of paper. Eventually a digital form of this collection will appear on the Internet free of charge.

The project began in 1985 as the Lincoln Legal Papers, which produced digital images of more than 96,000 documents on Lincoln's legal career. Now broadened to include all Lincoln documents, thousands more have been painstakingly located, annotated and digitized. Many large repositories such as the Library of Congress have yielded up their treasures, but like a giant jigsaw puzzle, holes remain which you might fill.

The project staff does not purchase or keep documents, but simply converts them into a digital format, using a process called scanning. The picture at the right shows project director Daniel Stowell scanning a framed document in a home.

Direct Benefits of Digitizing Documents

One result of having a document scanned is receiving a high-resolution copy to print and frame, the better to store the original in a safe place, away from excess light, heat and humidity. Stowell says, "If the copy fades, you can print out another one. Light will eat up original documents over time, and so will acid in paper that touches them."

"There are lots of reasons people might want us to take a look at their documents. We're not professional conservators but we have had a good deal of experience identifying problems that documents are facing -- acid burn, light exposure, inadequate framing. We can authenticate documents but do not appraise them. We also can make general recommendations about the care of documents and where to get them appraised.

"People also might not realize how significant their document is, if they own commissions, appointments, endorsements, and letters to Lincoln. All those documents tell part of the larger story. A lot of times the individual document doesn't tell the story by itself but if you put it together with other documents, it's part of the bigger puzzle.

"What we generally do is add individual collectors to our list, then hope to visit them at a future date, depending on where they live. We bring a laptop and a flatbed scanner and scan their document. Then we provide them with a copy of the visual images and add that document to our database. We attach their names or allow them to be listed simply as a private collector if they wish to remain anonymous.

"We have largely finished our visits to repositories, so when we visit an individual's home or office depends on the location. For example, we've learned of the existence of three documents in the Albuquerque area, but we can't afford to drive to Albuquerque for three documents. But there's a possibility we may return to southern California, so, knowing there's a document in western Oklahoma, one in Wichita, three in Albuquerque, one in Phoenix, and a cluster in southern California, we could do it. We have to get to a critical mass of documents that can justify a trip.

"Or, if a document owner happens to be in or near Washington, D.C., where we have staff, we'll have that staff member visit them. Anything in Indiana, Ohio, and Pennsylvania we would probably visit on one of our trips to Washington.

Digitization and Document Concerns

For those who wonder how safe documents are during the scanning process, Stowell says, "The exposure to light is always an issue with an historical document. There have been studies on the light that scanners emit as roughly the equivalent to being on display in a low-light museum setting for a couple of hours. So it would be a very low exposure and very little chance of any harm."

"The other benefit that these digital images offer is that they provide a snapshot of the condition of the document at the time. So if it should fade, or be stolen or anything else would happen to it, first of all you have proof that you owned it, which has come in handy with some institutions, and it's also in effect a status report."

"There's even opportunities with digital images to adjust brightness and contrast so documents that are quite faded can be made much more legible. We don't do that with our master files but can do that after we bring a master file into the computer program. That's one of the nice things about high-resolution digital images; you can manipulate them to enhance the contrast to a point so you can read details you might not be able to read even holding the original document."

Stowell realizes that document owners have other concerns, primarily that a scanned image would make the original worth less. "It really isn't justified," he says. "Because Lincoln documents are so valuable and through the years there have been a number of forgeries and fascimiles, the authentication process actually enhances the value more than the fact that it's known detracts from it."

"There are lots of documents out there that people claim are Lincoln documents -- in fact, you can see them on a regular basis on eBay -- these are not Lincoln documents and they are never authenticated and sometimes unwary buyers purchase them. Often you will see as a point of pride or value that 'this was included in Basler's Collected Works'. We are offering the same kind of validation of documents as Basler. So if we authenticate a document, presumably it would have a positive impact on the value, not a negative one."

Document owners also may wonder about the use and permission status of images included in the project. Stowell says, "If anyone asks us for an image that is not in the public domain, meaning one that's not in the Library of Congress or National Archives, we always tell the inquirer they have to get the permission of the institution or individual who owns it before we will provide the image."

"Or, because we give copies of the document images to institutions and individuals, they can provide copies; it's up to them. We never give out images without the permission of the owner, and that includes the Internet. What we are planning to do when we publish Series II is send out a letter to everyone who has documents in that section and tell them we will publish a low-resoluation image in a certain format with certain technical specifications. If they don't want us to include this, they can let us know. If it's okay, we will put out the image and its transcription. If we hear from them and it's not okay or they require us to pay for it, we'll just put out the transcription."

Literary Rights Issues

"The common misunderstanding is that the person who owns the document owns the words. Words are either in the public domain because of the nature of the person writing them or they belong to the literary heirs of that person. But the image can be controlled by the person owning the document."

"Everything that Lincoln wrote as President, of course, is in the public domain because he was a public official. Everything that was privately written by him that was published before is covered because of its earlier publication. Anything else that hasn't been published and wasn't written while he was President -- which is a pretty narrow slice -- the State of Illinois actually owns the literary rights of Abraham, Mary, and Robert Lincoln. The last living descendant, Robert Lincoln Beckwith, turned over those literary rights to the state before he passed away.

"So as far as Lincoln goes, we have no worries. But if you make the argument that your great-great grandfather wrote to Lincoln, you first have to say, "Okay, I have 1/50th or whatever percent share of the literary rights of that person but then you'd have to find your other 49 cousins who own the other parts and then you have to make a case that there is some monetary value, so I'm not particularly concerned about the literary rights issue.

"Literary rights become a much bigger issue, first of all when you're dealing with mid-20th century and on authors or when you're dealing with literary figures. The only literary figure in our group of any extent would be Lincoln himself."

"New" Documents which Emerge

Stowell says that individual collectors have contributed some "new" (previously unknown) documents to the project's database, which you can see on the project's New Documents page. When we spoke with him they comprised about 10 percent of the total. "Some of them came to us via dealers," Stowell says, "and we don't necessarily know who owns them now, which is another reason I believe there are probably a couple thousand people in the country and perhaps internationally who own Lincoln documents; we've just scratched the surface in finding them."

Recognition for Document Owners

"Another thing we would do in addition to providing collectors with authentication and a digital image is that we would acknowledge them on our website and in our quarterly newsletter, the Lincoln Editor. If they wish to remain anonymous, of course, we would be perfectly happy to respect that as well but for the most part we do not identify their city and state on the website as having allowed us to scan a document." Stowell adds that they don't divulge which document or how many documents a collector owns.

Scanning Your Own Documents

In a few cases, the project has received scanned images from individuals. "The specifications are not terribly complex, especially with modern scanning technology." Stowell says. "You can probably buy a scanner that can do 600 dpi (required for the project) for perhaps $100 - 150. The price has gone way down and the scanners are more sophisticated. Generally, we like to do it ourselves because even in situations where we've dealt with institutions which have digital staff, there always seems to be some wrinkle."

Stowell recalls how project staff members visited a large library and identified many documents. The library wouldn't allow them to do the scanning but promised to provide images and waive fees. Two and one-half years later they were "finished" -- all were scanned at the wrong resolution, some were incomplete, and others were missing altogether. Fortunately, the library has allowed project staff to come in person to resolve the problems.

The Institutional "Wish List"

These are the institutions which haven't helped the project yet. Stowell says, "By this I mean they won't let us scan or scan for us and waive fees. Most of them would scan for us and charge us but we just don't have the money to pay $5 to $50 per image. So this is a list which fluctuates. There's probably been 45 or 50 institutions at one time or another that have been on this list. Right now it's at about 20, but we've had an interesting set of occurances lately.

"Some people visited the Lincoln Presidential Library recently who had a connection to one of my relatives. So they asked if they could meet with me. I explained the project and they were very excited about it; one of them even had a Lincoln document. Then I showed them our map which pinpoints the 'wish list' institutions in their region, including a college. It just so happened one of them was an alumnus of the college. Well, he intervened for us, so now it looks like they may move off the list by providing scans. Not only that, he also talked to someone on the board of another 'wish list' school and a third institution as well. So he's been a great asset for us.

"Then we happened to talk about our 'wish list' to another private collector. At the top of the list, just in sheer numbers, is an eastern university. This school would not let us scan or scan for us. But the collector is an alum who contacted them and it looks like they might provide us with images."

Stowell also said his attendance at a meeting of documentary editors in Philadelphia proved helpful. There he met a colleague at a 'wish list' institution who agreed to plead his case with the right decision-maker. Once again, this institution seems likely to help the Lincoln project along with the necessary images.

"Our state archivist went to a conference of archivists and got about four archives to assist us. So I keep talking about the list and sometimes somebody knows somebody who knows somebody. We still have not been able to work with Harvard University, Boston University, and West Virginia University. The concerns are different every place: sometimes it's handling, sometimes it's money, sometimes it's just a bother.

"I do think private collectors have a lot of material out there including things we've never seen before that are pieces of the overall picture that we really need to hear about. If they will come forward, I think our collection will be that much richer."

Document Owners Who Visit the Project Office

If you want to bring Lincoln items to the project office in Springfield, Stowell suggests, "Just get in touch with us and set up an appointment; we would be happy to scan the document there."

"We recently had a lady come up from St. Louis with a 'brand new' (never published) Lincoln document. It was a letter to the colonel of the 91st Illinois Regiment in Texas. Lincoln didn't know who the colonel was so he just wrote it to the colonel. The message read, 'If David C. Edwards, is in any trouble about desertion, suspend action, and report the facts to me.'

"She also had a 1913 or 1914 newspaper clipping that had an image of this document and a picture of a woman. The story behind it was that the fiancee of the soldier went to Lincoln personally and pled for him, because he was going to be executed for desertion. He wasn't executed, they got married, and were living on a farm in Tennessee when the article was written.

"The lady who brought these items to us was the great-granddaughter of the colonel, so that's how she ended up with this document. She also had some cdv's of her great-grandfather. So I had one of our researchers in Washington check the court-martial files because I thought if Lincoln asked for the file, maybe it was there in the National Archives.

"Well, they found the file about this guy. Lincoln's letter was written in November of 1864 so I was concerned about how long it would take to get to Texas. After all, he could have been dead before this ever got there. The researcher found that this soldier had been brought up on charges of being absent without leave in February of 1864. He had been found guilty but there was not going to be any punishment because of extenuating circumstances.

"It appears that he got into trouble again, this time for desertion, in September 1864, hence Lincoln's letter in November 1864. I'm still awaiting his compiled service record from my colleagues in Washington to see if it tells us more."

Gifts

Although this important project has some government funding, it needs gifts from individuals more than ever. Contributions are handled by the University of Illinois Foundation. To send a gift by mail make your check payable to the Papers of Abraham Lincoln / UIF and send to:

University of Illinois Foundation/Papers of Abraham Lincoln
1305 W. Green Street
MC-386
Urbana, IL 61801

If your corporation offers matching gifts to educational institutions click here to arrange a matching gift for the Papers of Abraham Lincoln.

To donate to the Papers of Abraham Lincoln online click here.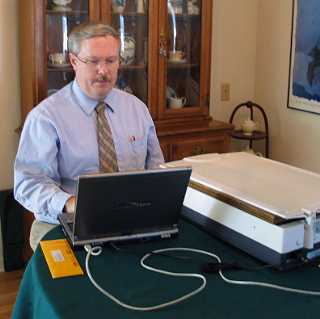 Daniel Stowell, Director of the Papers of Abraham Lincoln
&copy Abraham Lincoln Online
How to Help
Contact the project office
Individual document owners may click here for an online information form. Staff members of a repository such as a school, library, or museum, may click here. To notify the director of the whereabouts of a possible Lincoln document, click here.

Bring documents to the office
Once you have made an appointment, you may take your documents to the Papers of Abraham Lincoln office for scanning (see contact information below).

Ask the staff to come to you
When there are enough documents to warrant a trip to a particular area, a staff member may arrange to scan documents in homes and/or offices at a suitable time. The process is safe, quick, and easy.

Send in a scan
Email your pre-approved digital image to the Project director. Click here for the required specifications.

Contact Information

Mailing Address: The Papers of Abraham Lincoln, 112 North Sixth Street, Springfield, Illinois 62701-1507
Phone Number: (217) 785-9130
Fax Number: (217) 524-6973
E-mail: dstowell@papersofabrahamlincoln.org
Commonly Asked Questions
How can I tell if a document is original or not?
Some facsimiles are 80 or more years old, so it's difficult to tell if they are not original if they are framed. When you remove one from a frame you may see printing on the back if the document is not authentic.

Will the scanning process damage my document?
The amount of light exposure the document receives during scanning is very small and unlikely to cause problems.

Can you scan documents in frames?
It's better to remove the document from its frame for scanning, but a good image is often possible from a framed piece. The exceptions often concern the shape of the frame; deep mouldings may make a good scan difficult.

May I remain anonymous as the owner?
Yes, you have that option.

What happens to a document once it's scanned?
The image goes into the digital database of Lincoln documents and will appear someday on the Internet in low-resolution form, if you grant approval. The web page with the document will contain a transcription for those who want to read it quickly. If it's important to you, only the transcription will be made public.

Why are documents scanned in color?
Color allows anyone to see the document better and to gain understanding about it in ways that a black-and-white image may not. It reveals subtleties such as the color of ink or paper, seals, endorsements, and folds.

Why is correspondence to Lincoln included?
It often helps to understand Lincoln's responses and the context of the situation. To have both parts of the interaction is more like hearing a conversation rather than a monologue. But just as there is no complete collection of Lincoln documents, neither is there a full record of correspondence to him.
Document Care Tips for Collectors
Avoid direct light
Display an original document in the light for a limited time only and under in low-light conditions. Light will quickly fade the ink and damage the paper. A better option would be to replace the original with a scanned image for display purposes, as is often done in museums.

Preserve it properly
Use acid-free paper or clear plastic archival sleeves to keep it clean; store it horizontally with adequate support to keep it flat. Wear cotton gloves when handling it, and avoid using matboard over it.

Limit handling it
The natural oils in your fingers can damage old paper and ink; use cotton gloves to handle documents unless they are already protected with clear archival sleeves.

Consider humidity and other detractors
Avoid hot and/or humid conditions (above 50%); don't store in basements or on concrete floors. Other dangers are tape, staples, paper clips, folding a flat document, and lamination.